Peonies by Post - £65
A box of 20 handpicked, English, top quality mixed peonies delivered typically available from end of May through June.
A handwritten gift card with your personal message will be included.
Colours will vary from deep red, through pinks to whites.
Delivery to England, Wales, and the Scottish Lowlands is included.
We require a minimum of 48 hours' notice to process and despatch your flowers.
The weather can affect the flowers so delivery dates may have to be altered to ensure you receive the very best quality.
Requested delivery dates cannot be guaranteed.
Once the flowers are with our courier we cannot be held responsible for any delays to the delivery.
During the season, place your orders by carefully completing the form.
You can pay using most Credit or Debit cards.
For wholesale orders please see the trade page of the website, and for any other enquiries, please email farm@whites-farm.co.uk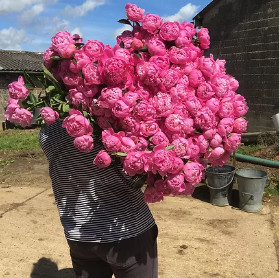 £65
Per box of 20 stems including delivery*